Thinkware F800P64
The Thinkware F800PRO is a 1080p full HD front dash camera with a Sony Exmor R Starvis image sensor. Get accurate Safety Camera Alerts, Road Safety Warning Systems, time lapse and Super Night Vision 2.0 functions by using the built-in GPS. The F800 PRO offers Thinkware's Energy Saving Parking Recording function, which features 1/3 less power consumption, giving you 3x longer video recording than normal parking mode. Conveniently access your footage and update your dash cam with the built-in Wi-Fi and the new mobile viewer app for Thinkware F800PRO.
FEATURES
Perfect image processing even in low-light environments
The Sony Exmor R STARVIS Image Sensor applied to the F800 PRO provides rich colors and the optimal resolution. STARVIS technology improves Exmor R's low light sensitivity by providing optimal image quality in visible ray and near-infrared range, allowing clear imaging in low light environments.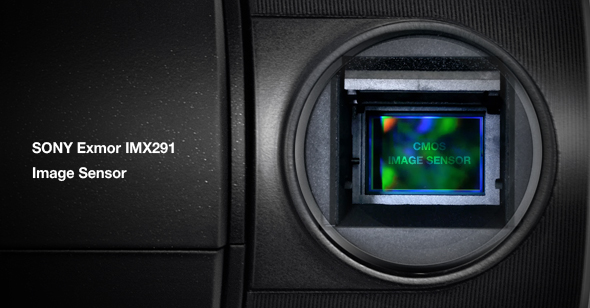 Various Autonomous Recording Modes
Get in and go without having to worry about if your Thinkware Dash Cam is recording. Thinkware Dash Cams automatically switch recording modes (continuous recording, manual recording, incident recording, and energy saving parking modes) depending on what the vehicle is doing.
Note: Parking mode requires the use of a Hard Wiring Cable (HWC)
Energy Saving Parking Recording
Energy saving parking recording will reduce power consumption by 1/3 and gives 3x longer video recording than normal parking mode. When you are away for a vacation or leaving your car for a long period of time, energy saving parking recording is the recommended solution. When in use, F800PRO will go to sleep and if an impact is detected by the built-in G-senor, F800 PRO will wake up within a second and start recording for next 20 seconds.
Note: Parking mode requires use of the Hard Wiring Cable (HWC)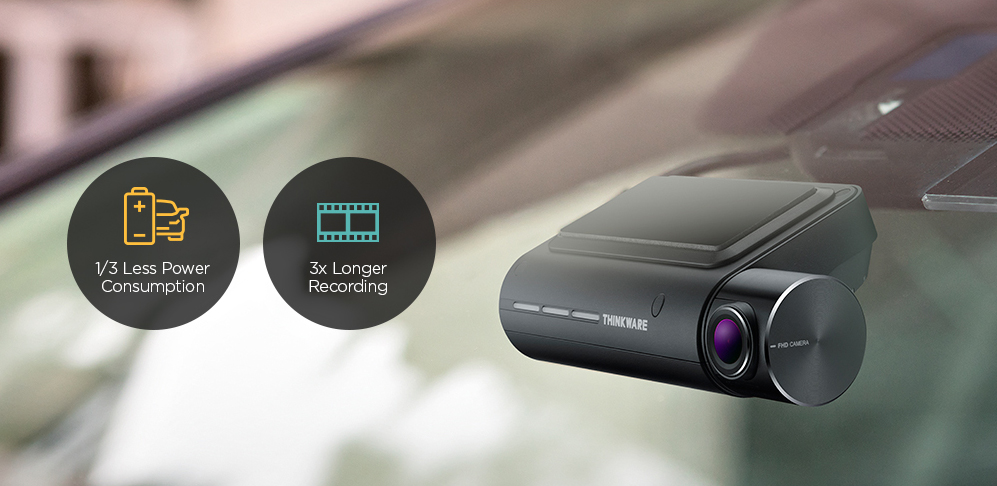 Super Night Vision 2.0
Dash Cam videos recorded in a low-light environment, such as dark alleys or parking lots, may not be clearly identifiable. Super Night Vision 2.0 in the F800PRO uses Image Signal Processing (ISP) technology to record a clear, visible video in any situation – while driving or parked.



Time Lapse
Important clips and images may get deleted due to insufficient memory space during long continuous recordings, especially in standard parking recording mode which requires large memory for saving 15 to 30 frames per second. Time Lapse Mode in the F800 PRO records 2 frames per second reducing the size of the video file. This allows video recordings in parking mode to continue up to 9 times longer than other dash cams.
Note: Time Lapse only operates in parking mode. Parking mode requires the use of a Hard Wiring Cable (HWC)



Safety Camera Alerts
The Thinkware Dash Cam F800PRO's internal GPS provides accurate location information while the Safety Camera Alert function is on continuous alert to warn the driver of red lights and traffic enforcement cameras. Cultivate safe driving habits with Thinkware Dash Cam.
State-of-the-art Video Enhancement
Thinkware Dash Cams are equipped with top-notch video enhancement technology on the market, ensuring the most vivid video recordings under any circumstance.
The Wide Dynamic Range (WDR) function eliminates excessively bright spots on the recording to correct its color balance in order to ensure a clear image.



Night Time Picture Quality Correction takes control of brightness and colour as well as noise reduction to give you best possible picture in low-light environments.



The Intelligent Automatic Exposure function controls the level of light exposure to maintain vivid and clear video recordings in all circumstances.



Road Safety Warning Systems
The THINKWARE DASH CAM F800PRO is equipped with the Lane Departure Warning System (LDWS), Front Collision Warning System (FCWS), Urban Front Collision Warning System(uFCWS) and Front Vehicle Departure Warning (FVDW) to ensure driver safety with a voice warning.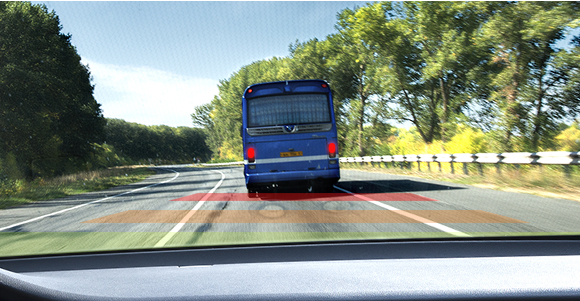 PC & Mobile Viewer for Checking Recorded Video
Your smartphone and the F800PRO can be connected via the exclusive application 'THINKWARE DASH CAM Mobile Viewer for F800PRO' with built-in Wi-Fi in the navigation. Check, download or delete recorded images, update firmware or update safe driving information on the application. Use the PC or Mac viewer to playback and download recorded videos along with your route history and speed record.
Format Free Technology 2.0
Format Free 2.0 Technology eliminates the need for manual reformatting of recorded video files on the micro SD memory card, extending memory card life and improving reliability.